http://na.finalfantasyxiv.com/lodestone/topics/detail/1d2735aedb93aec6689f83f7ab79ad62ed30e196
Quote:
Development of patch 2.1 is well underway, and today we'd like to give you a glimpse of the new dungeon Pharos Sirius, as well as the hard mode incarnations Copperbell Mines and Haukke Manor!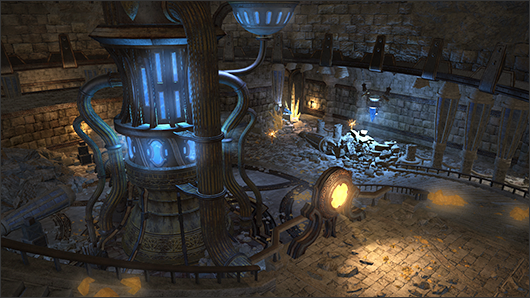 Off the shores of the Isles of Umbra, the sea is rife with hidden reefs and rocks, leading many a ship to a watery demise below her undulating waves. So it was that a lighthouse was constructed at the end of the Sixth Astral Era. For a time this structure would serve seafarers well, ensuring safe passage through the Navigator's waters. Fueled by an aether generator designed by Naldiq & Vymelli's, Pharos Sirius was the guiding light of Limsa.
The Calamity, however, would change everything. The lighthouse was destroyed in the wake of Bahamut's onslaught, and the surrounding area's aether would soon give way to a formation of corrupted crystal. While efforts to rebuild the lighthouse were impeded by these crystals, the peoples of Limsa would soon face a threat much more sinister.
Thought to be long since purged from La Noscea's shores, a siren has returned to the Isles of Umbra, making Pharos Sirius her nesting ground. Rumors are now made manifest as a supernatural infestation continues to spread across the isles. Once a shining beacon of hope for Lominsans, Pharos Sirius is now the dark dominion of the siren and her legion of undead minions.
 
Class Level Requirement Level 50 Disciple of War or Magic 
Item Level Requirement 	Average item level 48 or above 
Party Size 	               Four players 
Time Limit 	               120 minutes 
Quest Name 	               Sirius Business 
Quest Requirements 	Players must first clear the Praetorium
* Starting with patch 2.1, players can view the average level of their equipment via the Character interface.

New dangers and formidable foes await those who would dare to revisit Copperbell Mines and Haukke Manor.
Copperbell Mines (Hard)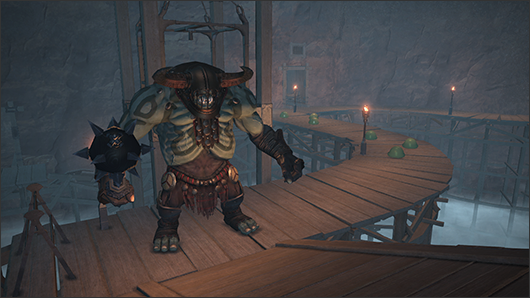 Thanks to the valiant efforts of Eorzea's adventurers, the horrific hecatoncheires were purged from Copperbell Mines. Amajina & Sons Mineral Concern would waste no time in resuming efforts to expand the mines donward in an attempt to tap yet-undiscovered veins of valuable metal.
The dark depths of Copperbell Mines would reveal not precious ore, however, but a faction of the hecatoncheires clan yet to be expelled from the mines. Adventurers the realm over must band together once more to rid Copperbell Mines of these brutish barbarians once and for all.
Haukke Manor (Hard)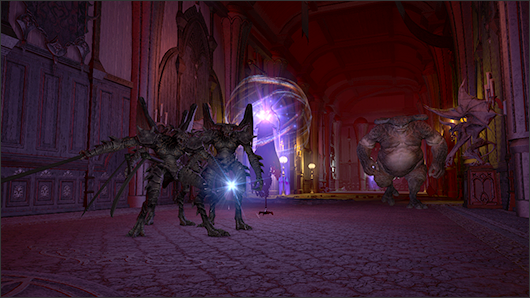 Horribly disfigured during the Calamity, Lady Amandine signed away her soul to reclaim her lost beauty.
Surrendering herself to creatures beyond the void, the lady would never again be seen beyond the walls of Haukke Manor.
Rumor has it the lady has been laid to rest by a band of adventurers, and the Wood Wailers have dispatched an elite unit of soldiers to investigate. Though determined to uncover the truth and expel any beasts who dare call Haukke Manor home, none have returned from its tainted grounds. Now, the Wailers make plans to send a second squad to infiltrate the voidsent villa.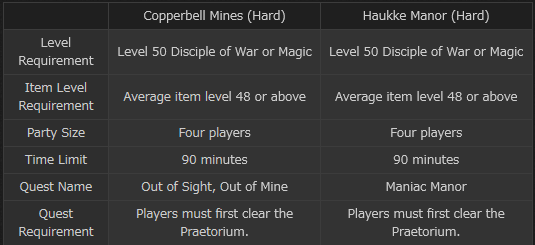 * Starting with patch 2.1, players can view the average level of their equipment via the Character interface.
Fight your way through the lighthouse and obtain spoils from enemies and treasure chests!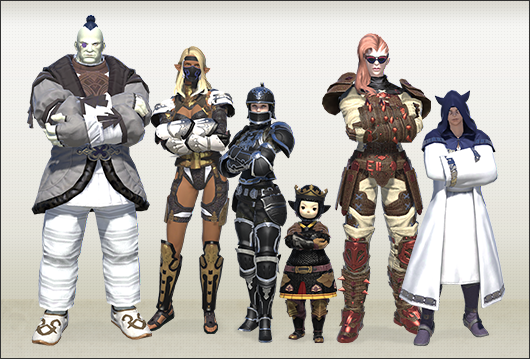 * Development screenshot—subject to change.
* Please note that the aforementioned dungeons are still in development, and certain details are subject to change.
Edited, Nov 27th 2013 3:52am by Szabo