http://forum.square-enix.com/ffxiv/threads/62802
Yoshi-P wrote:
Hello again to all of you eagerly awaiting FINAL FANTASY XIV: A Realm Reborn. With only a month left until release, the office is a bedlam of system schematics, game designs, and empty Red Bull cans. Even so, I couldn't go another minute without sending out my forty-eighth letter!
First, I'd like to thank everyone who participated in phase 3 of the beta test. Although character data had to be deleted at the end, players tested every nook and cranny of the game, providing us with a great deal of feedback. The development team and I can't thank you enough for all your help.
As we continue to address all the feedback from phase 3, we're squashing out a few final bugs, and making some last minute adjustments to the end game battles.
Completing the main scenario will get players to level 50, but the adventure doesn't end there. Being an online game, there'll be regular updates to continue the story. So even if you reach the level cap shortly after release, there's no reason to think you've hit the top. Considering all the plans we have for the game, you may want to get comfortable and prepare for a long stay in Eorzea.
Let me use the phase 3 Ifrit battle as an example. Although this battle is a level 20 encounter in the main story, after reaching level 50 you can take on a harder version. Anyone looking to earn weapons from the primals will have to overcome these higher level fights.
The various encounters we've created were designed with a hierarchy in mind, and as players progress through each tier, they'll naturally collect an optimal set of gear for that tier. All jobs were equipped with this optimal gear when we conducted our tests. We've calculated the maximum DPS for these battles down to the decimal, but it's up to you guys to show us what you're made of and reach for that level of precision.
(We've used debug commands to monitor DPS during our tests, and the numbers are intense.)
Because these fights are so tough, it wasn't enough to play with just the battle team and myself. Thankfully, we managed to reel in a few dedicated gamers from the other departments to help with our testing. (Thank you so much guys!)
With that said, I think it's time for a long overdue dose of screenshots.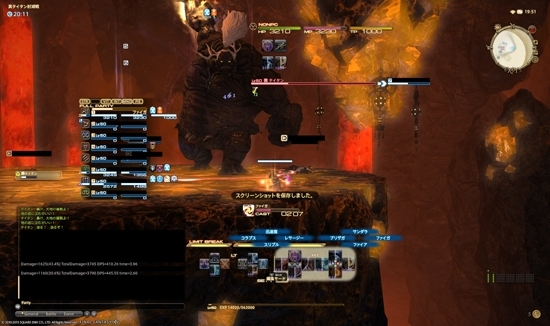 Titan—the indomitable mountain! You got a glimpse of him during the Crystal's Call trailer, but soon enough you'll have the chance to go toe to toe with this gargantuan fiend. You'll encounter him first during the main story in a four person battle, but in hard mode you'll need eight players to take him down. Just wait until you see the extreme mode battle we're working on.
I somehow managed to stay alive to take screenshots, but with all my running around, there was no time to actually try and defeat him. I was about to get serious, but then came the fist.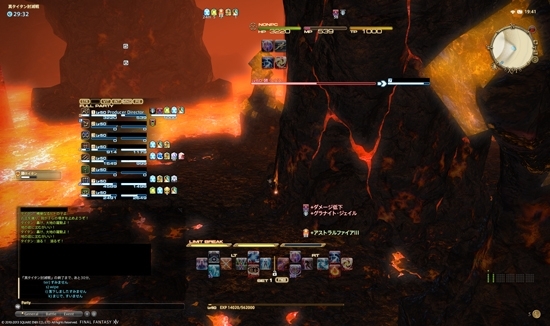 Before I knew it, I'd fallen out of the ring just like everyone else. We're all pretty serious gamers so it was a bit of a shock. Trying to keep straight faces, we couldn't help but laugh as he took us down one by one.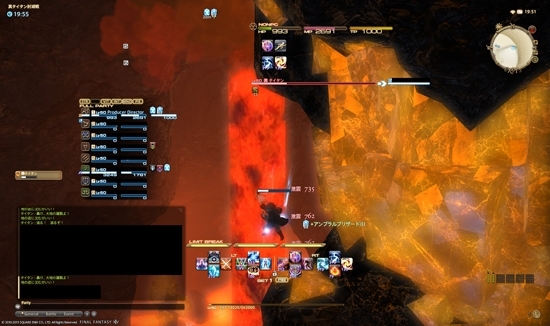 We even toned it down a bit because we thought the damage may be a little high. Or so I thought.

Translation wrote:

(Anonymous A): Tumult damage was reduced by 15%.
(Anonymous A): But I thought that'd make it too easy, so I also raised its ??? 20%.
(Anonymous B): Hahahaha.
(Producer Director): rofl
(Anonymous A): That's all.
Screenshot saved.
(Producer Director): I've got to get this
(Producer Director): in the next Letter from the Producer.

We'll be making adjustments to really push these fights to the brink. A perfectly timed level 3 limit break just might be the difference between victory and defeat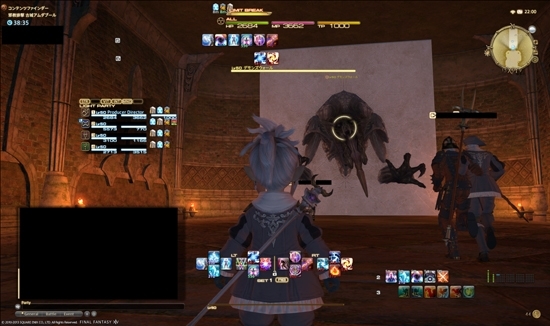 Here's another high level dungeon for four players. Naturally we've covered up a few things to prevent spoilers, but you guys seem to have a knack for figuring things out. This is sure to be another exciting life and death battle, and Demon Wall is only the mid-dungeon boss! Who or what could be waiting at the end?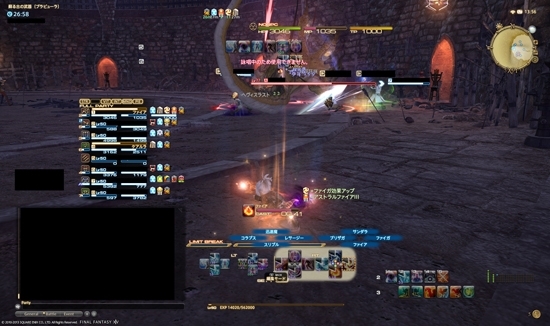 I know players from Version 1.0 are curious about their relic weapons, and this picture may give you an idea of what's in store for that quest.
(The quest name in parenthesis came from a debug command, so no need to decipher it.)
We hope you'll enjoy the changes we've made in your quest to acquire the ultimate weapon.
As a gamer, I use a lot of different keyboard and gamepad setups at home, but all of our tests for FFXIV: ARR have been done using a standard gamepad. Checking how difficult it was to finish battles and how much DPS we could put out, we'll do final checks and double checks of everything once gamepad performance is where we want it.
Although we're making a product, it truly is a pleasure to be engrossed in this game all day. Final adjustments to the later battles are well underway, and soon everyone will be having as much fun as we are, and then some.
Thank you again to all the players around the world who took the time to test our game, and to the players from Version 1.0 who've supported us from the beginning. Release day is on the horizon, and we'll continue to give it our all to provide you with a great gaming experience.
I have to go for now, but I'll see you all soon in my eighth LIVE letter. Until next time!
Edited, Jul 25th 2013 7:54am by Szabo