I want one

.
http://na.finalfantasyxiv.com/blog/post/355
Quote:
In the Sack
May 31, 2013
Howdy-ho!
Fernehalwes here typing out today's blog with fingers sticky from the honey-dijon rice chips I'm eating for brunch. What's brunch, you say? I've been told it's not quite breakfast, it's not quite lunch, but it comes with a slice of cantaloupe at the end. (In my case, it only comes with more honey-dijon rice chips)
As you all know, E3 is right around the corner; and what's the best part about E3? Is it waiting in line for 4 hours to play the new PlayStation...only to realize you were in the line for the newest smartphone farm simulator? Is it the $10 pita sandwiches (now with lettuce!) and the $8 diet Mountain Mist Morning Dew carbonated beverage? No! It's the free STUFF! Running low on t-shirts for the year? E3! Need some glow-in-the-dark slap bracelets? E3! Free cans of ultra-caffeinated prototype energy drink? E3! And what about a snazzy tote bag to carry all that stuff in?
BOOM!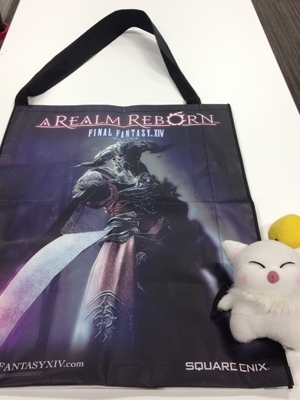 This just in, anyone who visits the Square Enix booth at this year's E3 (June 11 to 13) and plays both FINAL FANTASY XIII Lightning Returns and FINAL FANTASY XIV: A Realm Reborn will get one of these babies, FREE! (insert: "while supplies last" blurb here)
On one side we have Lightning...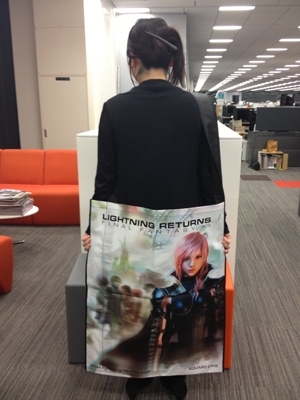 And on the other, Gaius van B!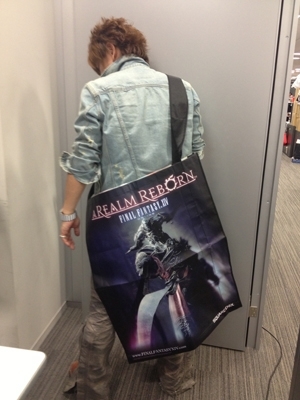 Think of all the glow-in-the-dark slap bracelets I could fit in THAT...
Fernehalwes
Editor's note: In addition to providing lots of free swag, E3 also showcases new products from hundreds of game companies from around the world (but you already knew that!)
Edited, May 31st 2013 6:53am by Szabo