http://na.finalfantasyxiv.com/blog/post/202
Pinurabi wrote:
From LA with Love
February 11, 2013
Hello everyone! Pinurabi here.
As you will have guessed from the title of this post, I'm writing from sunny LA, far away from the ironfisted rule of Fernehalwes.
What's that, you say? Wasn't I supposed to be locked up in a utility closet, under constant guard by tonberry turnkeys? Well, that's precisely what Fernehalwes thought until he discovered, to his woe, that someone had taken his place on the plane to LA. I am so smart! S-M-R-T! Who's King of the Blog now, you pompous ahriman!?
But back to the present! Yoshi-P has embarked on a media tour, accompanied by a band of loyal retainers. Today we sat down with our comrades at Square Enix North America, and ironed out the finer details of the event. Here's a snapshot taken at one of our many meetings: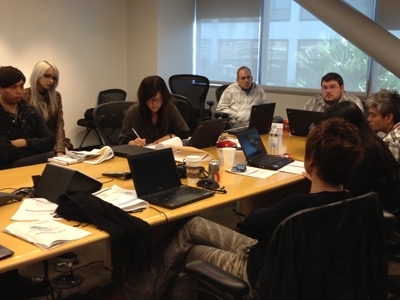 Next is a photo of (some of) our North American and Japanese Community & Services team members. Such a photogenic bunch! Second from the left, Bayohne looks every bit the door-to-door salesman. Who's your buddy, eh?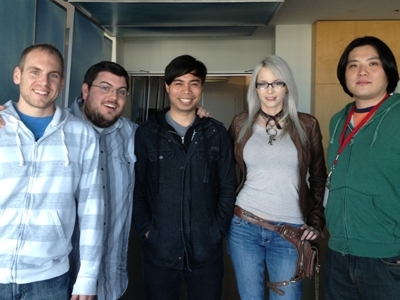 After the first set of meetings had wound down, I went on a self-guided tour of the LA office, and—
Duuude! Check out this radical A Realm Reborn elevator door art! We wants it for Square Enix headquarterses in Japanses!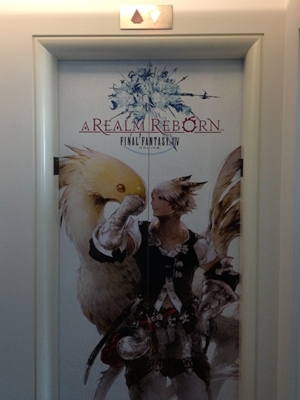 But alas, I must away—'tis time for yet another meeting! On the morrow we are off to San Francisco, our first leg on the media tour. We'll do our best to keep everyone posted on late-breaking developments via both the forums and the blog, so stay tuned!
Pinurabi
Edited, Feb 12th 2013 7:38am by Wint