Okay folks, it took me a while to figure this out, and if you've been following my posts you have seen my confusion. Here is a step by step to registering your codes for play:
1) Log into your PSN account on your PS3 and on the XMB go to Redeem Code.
2) On the card inside your case labeled "Registration Code" (the purple and white one), enter that and redeem that code. Download the game if needed.
3) Now, go to your browser on your PS3 or your PC and go to http://member.square-enix.com/na or http://goo.gl/MFGjTp if it 404's like it does for me (I'm using the latest build of Chrome and for whatever reason it 404's every time I enter that in). Log into your SE account.
4) In the top right corner hit your account name, and then hit My Profile in the drop down box.
5) Towards the bottom it'll say Registered Games: # -- hit Add New Game below it and register the code on the card that says Product Registration Card (the black, red, and white one that's like a little half card inside the case). This'll register the product onto your SE account. (why this is a two stage process, I'll never know).
6) You'll notice that not a damn thing has changed except the product is registered. Your Mog Station will still say you have no subscription, etc etc. Go back to your PS3 and log into the game. Now and only now will it ask you to register the actual FFXIV service to your SE account. Once you accept the terms and conditions and add the game as a service, you can manage it online at the Mog Station.
I don't know why it took all that for me to register my game, I've been fiddling with it for over 45 minutes. But that's what needs done to register your PS3 copy of the game, get your bonus 30 days, and manage it at the Mog Station.
Cheers,
Dare Knight
PS: Having the PS3 version of the game doesn't allow you to access it on your PC. I just tried to log in and received the error:
"No valid or active service account is available to play FINAL FANTASY XIV: A Realm Reborn.
Proper registration through the FINAL FANTASY XIV: Mog Station is required.
* Users participating in early access must also complete registration by August 30, 2013. Using the code enclosed with your package, please complete registration through the FINAL FANTASY XIV: Mog Station."
PS #2: If you add the Windows Digital Download from here, you will get an ADDITIONAL 30 days of game time, and for $19 more you can upgrade to the CE. AFAIK bonus time counts towards the subscription time for the bonuses coming up.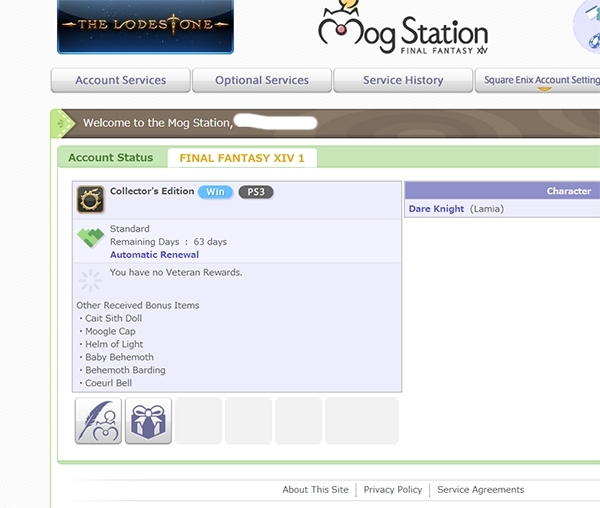 Proof of the 60 days of game time. The upgrade option from SE to CE will be listed right under where it says "Collectors Edition" for me. It'll provide a link to upgrade from there right under those words.
Also while I'm at it, if you hit Automatic Renewal you'll be able to set up your credit card for your subscription. You'll be able to select the type of subscription and the length up to 180 days. Valid forms of payment are listed below: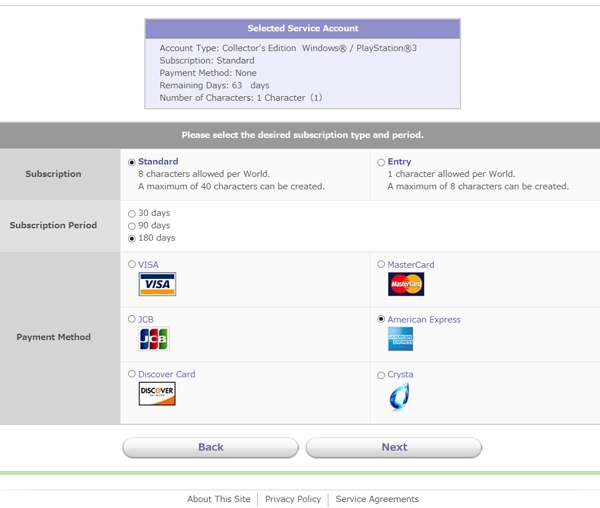 Here are the differences to Entry and Standard subscriptions:

Edited, Aug 27th 2013 7:58pm by darexius2010